Career Centre - High School Course Selections / Post-Secondary Planning / Scholarships
School Information In Brief
Strong commitment to students in a caring Catholic environment.
Diverse academic program for students in grades 8 to 12.
Offers a full French Immersion program at all grade levels.
Wide variety of programs including a broad course offering in the Practical and Applied Arts.
All students participate in a teacher advisory program.
Catholic Studies Ethics program at each grade level including a community service component.
Strong extra-curricular program in athletics, music, drama, PAA skills, and student leadership.
Provides programming in Special Education with modfied and alternate courses.
Band program offered at all grade levels including Jazz studies.
School Community Council provides help and support to the school in all aspects of program enhancement.
Programs include Commercial Cooking 10/20/30, Practical & Applied Arts Survey Courses, Communication, Media, Graphic Arts 20/30 and Construction 10/20/30, Cosmetology 10/20/30, Welding 10/20/30, School of Global Media Studies, Baseball and Softball Programs, Kinesiology Program, STEAM and STEM Programs.
Excellent guidance counselling, academic counselling, and post-secondary counselling service in place.
We're a 'Smart Showcase' School
Holy Rosary High School is proud to be selected as an elite "Smart Showcase School". For more information, please Click Here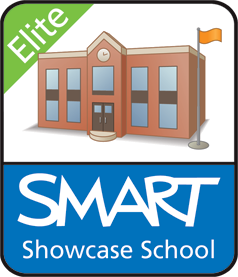 We're also a 'Google Apps for Education' School
We're proud to be committed to a Google Apps for Education solution in our school division. For more information, please Click Here