Imagine a world without words... it's pretty difficult. So much of what we learn at school is through listening and speaking, reading and writing. Speech and language are the building blocks of learning to read and write. It makes sense, then, that students who have trouble with speech and language may find school difficult. Think about your relationships with friends and family. Talking and listening allow us to create and enjoy relationships. When a person has trouble communicating, making and keeping friends can be difficult. Good communication skills are very important to school success and enjoyment of life in general. The Speech-Language Therapy Program is here to help children develop communication skills.
Who Needs Speech-Language Therapy?
Speech-Language therapy can be helpful with a number of communication needs. Here are just a few of those areas: making speech sounds correctly (articulation); speaking in full sentences and using correct grammar; learning word meanings and talking about how words are related (vocabulary); listening comprehension; hearing loss; Central Auditory Processing Disorders; stuttering; voice problems; augmentative/alternative communications systems for students who cannot speak; and communication needs associated with developmental challenges such as Autism and Asperger's, Down's Syndrome, Fetal Alcohol Effects, Cerebral Palsy.
As you can guess from the above list, there is a wide range in the communication abilities of students who receive Speech-Language Therapy. Some are very mildly affected (they may only have trouble making one or two sounds). Some are profoundly affected (they are non-verbal and need a different way to communicate).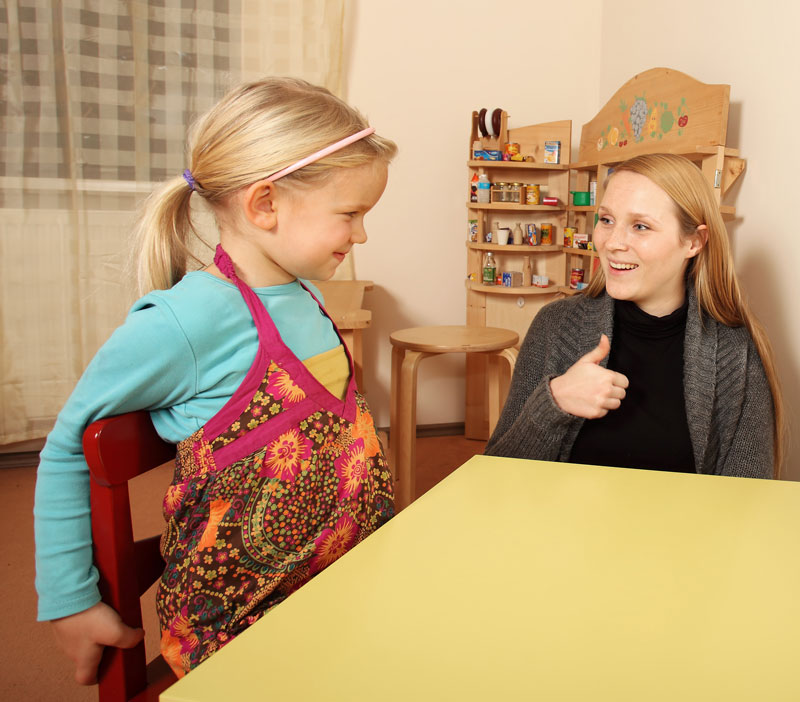 How Can I Get Help For My Child?
Students are referred to the Speech-Language Therapy Program in the following ways:
Kindergarten Speech and Language Screening - At the beginning of the year, every kindergarten student spends a few minutes talking with the Speech-Language Pathologist. After administering the screening, the SLP determines whether the student is having difficulty with speech sounds, vocabulary, retelling a story or understanding some concepts. Most of the children who attend speech therapy are identified through this screening.
Teacher concern - If the teacher is concerned about a student's communication ability, the teacher can refer the student to the Speech-Language Pathologist. Parents are always informed and the student can only be seen with the parents' permission.
Parent concern - If a parent is concerned about their child's communication ability, the parent can contact the Speech-Language Pathologist directly or the parent can contact the teacher and request a referral.
What is Speech-Language Therapy?
Students usually work with a Speech-Language Assistant at their school 2 or 3 times per 6-day cycle. They work on their personal goals through a variety of activities. Therapy is designed to be fun and stimulating. Therapy may last the entire school year; however, if the child is making good progress, the Speech-Language Pathologist will determine if he/she needs to continue.
Who Helps a Child Learn to Communicate?
Once a child has been referred, the Speech-Language Pathologist (SLP) will see the child for an assessment to determine if there is a communication problem and if so, what type of intervention is needed. If therapy is needed, the SLP will determine appropriate goals. The SLP reviews students' progress regularly to update goals. The SLP will decide when a child has accomplished his goals and is no longer in need of therapy. The SLP provides direct therapy to a limited number of students. The SLP also helps parents access other services related to communication such as referrals for hearing evaluations. Parents are informed every step of the way.
Most students will attend therapy with a Speech-Language Assistant (SLA). The LCSD is very blessed to have talented, creative, committed and caring SLAs at each of our elementary schools. Not only do they implement Speech-Language Therapy, they also act as caring supports for our children. Many times, other students in the class will ask if they can have a turn going to "speech" because it looks so fun!
Teachers and classroom Educational Assistants interact regularly with all students in a classroom. As they do this they model appropriate communication for all students. Students who have communication difficulties can practice new skills in the supportive environment of their classroom.
Parents, however, are the most important communication partners for a child. As a parent, you are with your child for more hours of the day than anyone and you know your child better than anyone. Parents can help a child use new communication skills in a number of situations. Some parents request materials to work on communication goals at home. Home practice usually speeds the therapy process.
Hearing
Hearing is very important to speech and language development. It has been estimated that kids need to hear a word 200-300 times before they say it. Therefore, a hearing loss can lead to difficulty speaking as well as understanding.
The Speech-Language Pathologist (SLP) can check a student's hearing with a quick hearing screening.
Hearing screenings can be requested by a teacher or parent. Every child who has a speech-language assessment will also have their hearing screened.
More Questions?
If you have questions about your child's communication, please feel free to contact one of the Speech-Language Pathologists, Ronda Day or Shannon Moore, at (780) 808-8585. You may also contact them by email: This email address is being protected from spambots. You need JavaScript enabled to view it. or This email address is being protected from spambots. You need JavaScript enabled to view it..
For information about speech, language and hearing development you can also access the Speech-Language and Audiology Canada website www.sac-oac.ca.