An Introduction
Through our model of governance, our Board of Education trustees embarked during the fall of 2008 on a review of their mission and value statements, and the school division's logo. This process was very helpful as it reaffirmed its core values. This process provided an opportunity to refocus on what is important on the local level.
The Board's Values represent their core priorities in Lloydminster Catholic Schools' culture, including what drives trustee priorities and how they truly act in the pursuit of excellence for our organization. The Board's Values are increasingly important in the development of the strategic planning process documented in their "Strategic Plan". The Board has committed to permeating these Values into our operations in the service of our students and the mandate of Catholic Education.
Mission
Lloydminster Catholic School Division will nurture the spiritual, intellectual, social and physical development of each student in a faith-centered community.
Our Story
Lloydminster Catholic School Division continues to grow and expand educational services since our inception as a school division in 1959. During this span of time, our school division has grown to provide a range of academic programming in exceptional facilities within our Catholic Education mandate. We celebrated the opening of our first school in 1961. Recently in 2001, we opened our new Holy Rosary High School and Division Office. We are so excited that our Kindergarten to grade 7 single track French Immersion program moved into their newly constructed school as of 2013-2014. We are also welcoming the new Mother Teresa Early Childhood Education Center into our family of schools. Mother Teresa opened with play school, Pre-Kindergarten and full time Kindergarten programming.
A commitment to faith and a tradition of academic excellence
Our Lloydminster Catholic School Division has an exciting vibrancy. As we evolve, our Board of Education continues to assess and reaffirm its purpose and mandate. We are proud for the academic achievement of our students from Kindergarten to grade 12. We are grateful for our students' active involvement in their faith through such initiatives as the Catholic Youth Leadership Program. We actively cheer for them as they participate in the wonderful extra-curricular opportunities. We are hopeful that the seeds of their faith will develop and grow throughout their life.
| Value | Value Statement |
| --- | --- |
| Catholic Faith: | Catholic faith permeates all aspects of our students' education. |
| Academics: | We strive for academic excellence for all students. |
| Communication: | Open communication with our students, staff, and our faith community characterizes our interactions. |
| Family / Community: | Students, parents, and staff work together as a team. |
| Honesty: | Integrity and honesty guide our conduct. |
| Leadership: | Strong leadership is characterized by innovation and excellence and promoted through continuous learning. |
| Love / Respect: | We foster love and promote respect for human dignity and life. |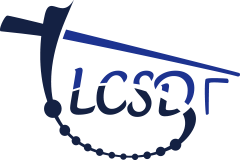 Lloydminster Catholic School Division Logo
"Where academics, faith, family and community meets" is derived from our mission statement. Faith is represented in both the cross and a decade of the Rosary; family is represented by the building, symbiotically symbolizing school and home; LCSD is inside a larger community and we strive to be a center of learning and our faith permeates all that we do.